JIM'S LATEST NEWS ON HIS NOVEL AND SCREENPLAY
New Edition from Ulysses Press is now available!
The Novel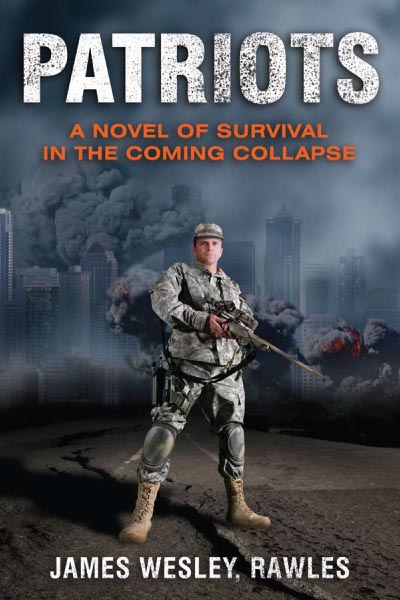 My novel is titled Patriots: A Novel of Survival in the Coming Collapse. The big news is that Ulysses Press is now publishing a new edition of the novel. By popular demand, this new 400 page edition includes both a glossary and an index. Because of the publisher's quantity discount pricing, this new edition is much more appealing to retail book dealers than previous editions. The new edition has been slightly updated and features a new cover design. The cover price is $14.95 (or $19.50 in Canada)
Patriots is a novel about a socioeconomic collapse in the near future. It was described by one reviewer as a "survival manual fairly neatly dressed as fiction." There are so many useful details included that most people find themselves taking notes as they read it.
The ISBN for the new Ulysses Press trade paperback edition is. 978-1569755990. It is now orderable from Amazon, Barnes & Noble, Borders, or your local book store.
I do not sell copies of my books directly. Fred's M14 Stocks still has some autographed copies of the now scarce XLibris edition available.
Unautographed copies are orderable from Amazon.com for just $10.17
It is also now available from Amazon as a Kindle Reader Book.
And you can buy it in the British Isles from Amazon.co.uk
Case lots (30 per case) are available directly from the new publisher: Ulysses Press.
Book cover artwork for use in book reviews, book catalogs, and wiki pages is available here.
Are you a book dealer, or do you know of one that might want to stock my novel? Case lots are available directly from the publisher, with a 45%+ dealer discount. (The discount is based on the quantity ordered.):
E-mail: ulysses@ulyssespress.com
Telephone: 510-601-8301
FAX: 510-601-8307
Snail Mail: PO Box 3440, Berkeley, CA 94703 USA

Printing History:
There was some confusion about the various editions of the novel. Some people have written asking if Patriots is a sequel to the Triple Ought or TEOTWAWKI draft editions. It isn't. Rather, it is a thoroughly fleshed-out edition of the same story line. There is a wealth of new technical detail in Patriots, and even some new characters. Much of the material was suggested by readers from all around the globe who had read one the draft shareware editions. I greatly appreciate their input!
To avoid any further confusion, let me explain the various iterations of the novel:
1.) The Gray Nineties was the title of a 19 chapter draft edition of the novel. It was distributed as shareware via the Internet from 1995 to 1997. There were 17,000 copies downloaded.
2.) Triple Ought was a 27 chapter draft edition of the novel. It was distributed via the Internet from 1997 to early 1998. It was highly successful, with 82,000 downloads logged from the main site and 11 mirror sites in North America and Europe. The various Triple Ought sites were linked by more than 150 web sites dedicated to Christian, patriotic, survival, and Y2K issues. It was reviewed in a variety of on-line publications as well as print publications such as American Survival Guide magazine and The Idaho Observer.
3.) TEOTWAWKI : The End of the World as We Know It was a 33 chapter expanded self-published edition of the novel, printed and Velo bound in 8-1/2 x 11 format. It included six appendices. Note: TEOTWAWKI was never distributed as shareware. It was sold during 1997 and 1998. This was a limited edition, with just 1,600 copies printed.
4.) Patriots: Surviving the Coming Collapse was the title of a 31 chapter (352 page) abridged edition of the novel that was in trade paperback from Huntington House. It was in print from November of 1998 to January of 2005, and was consistently their best-selling title. It went through three editions and nine printings, with 37,500 copies sold.
5.) Patriots: Surviving the Coming Collapse (Expanded Edition) was the title of a 33 chapter (384 page) edition of the novel published by XLibris Press. It was in print from November of 2006 to February of 2009, and was their best-selling title for nearly all of that time, with 26,220 copies sold.
6.) Patriots: A Novel of Survival in the Coming Collapse is the title of a 33 chapter (400 page) updated edition of the novel that is now out in trade paperback from Ulysses Press of Berkeley, California. (There will not be a hardback edition.) This new edition includes both a glossary and an index. There were 40,000 copies printed in just the first month that the book was released.
The Screenplay and Movie Deal
The "Pulling Through" screenplay (formerly titled "Triple Ought"), loosely based on my survival novel, is now available for free download at this web site. Please note that the screenplay is both copyrighted and WGAw registered. Any duplication for commercial use is expressly prohibited.
I am trying to get a feature-length Hollywood movie deal off the ground. But, as yet no production company has bought the screenplay. That is why I've made the screenplay available to a wide audience. Hopefully the right person will see it, and recognize this "property:" for its potential.
I believe that Pulling Through will be the first of a new wave of "ultra-realistic" films. They will be entertaining, thought-provoking, and even educational. The goal is to cast Pulling Through with actors who are already gun enthusiasts. All of the key actors will receive special training from a top-notch firearms training organization such as Front Sight. That will add a lot to the film's realism. Another goal is to mix blank firing with state of the art computer-generated special effects (to create, for example, realistic tracer bullet effects), and even some scenes of actual live ammunition fire. The live ammo fire will of course require extraordinary safety precautions, but talk about realism! If I have it my way, much of "Pulling Through" will be filmed on location in north-central Idaho.
I will keep you posted on further developments on the movie project.
Many thanks for your support!
- James Wesley, Rawles
You can contact James Wesley, Rawles via e-mail: